Android Apps
What Should I Do If I Suspect That My Partner Cheated
Realizing that you're being cheated on can be shocking as well as heartbreaking. You might feel like confronting your partner, asking them why they broke your trust and put your love on the line, but can you really do that without proof of their infidelity?
To get them to work with you on mending things, you'd need to first make them accept their mistake through a confession. And for that, you'd need a way to hack their phone and get a hold of their conversations. Because no matter how much they lie, their texts, call logs, and social media activity will reveal the truth.
A phone monitoring app can help you collect the evidence you need. And we're introducing one such app in this post.
Part 1: How to catch a cheating partner?
Over the years, phone monitoring apps have given a lot of people a look into the truth. Accepting the reality can be harsh, agreed, but staying in the dark is worse. And spyware apps help people come into the light.
Ever since phone spying tech has been discovered, several advancements have been made in the field to make it full-proof. One of the most cutting-edge apps for phone spying ever designed is Spyier.
Leading the charts when it comes to reliable, efficient, safe, affordable, and easy-to-use spyware apps, Spyier is the only tool you need to expose the lies of your cheating partner. Working in complete stealth mode, this app lets you keep track of everything that happens on your significant other's phone from a safe distance.
Click here to know more about Spyier's features.
Part 2: Spyier – No.1 Truth Revealing Software
When a tool has been around for more than a decade, it's natural for it to gather a lot of attention. Especially when it's as good as Spyier, having users going gaga over it isn't a surprise.
Spyier has served millions of users in 190+ countries across the world. Not just for personal uses, the tool is also extensively used for professional purposes like employee tracking since it offers features like text and call monitoring, live GPS location tracking, and much more.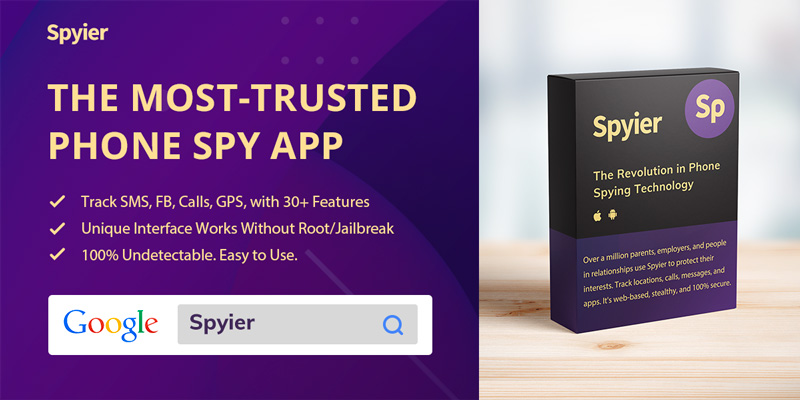 Recognized by brands like Forbes, BBC, WSJ, and NY Post, Spyier has what it takes in terms of capability and efficiency.
2.1: How Spyier performs hassle-free phone monitoring
Spyier can work in complete stealth mode. Once configured on the target device, it can operate hands-freely without needing you to intervene at any point. All the data that the app monitors is relayed to an online dashboard which is visible only to you.
To view the dashboard, you don't need to install anything on your phone or computer. Simply log into it using the credentials you obtain after sign-up. Login can be performed through any web-browser (desktop or mobile).
Now let's take a quick look at the configuration of the app on Android and iOS platforms.
On Android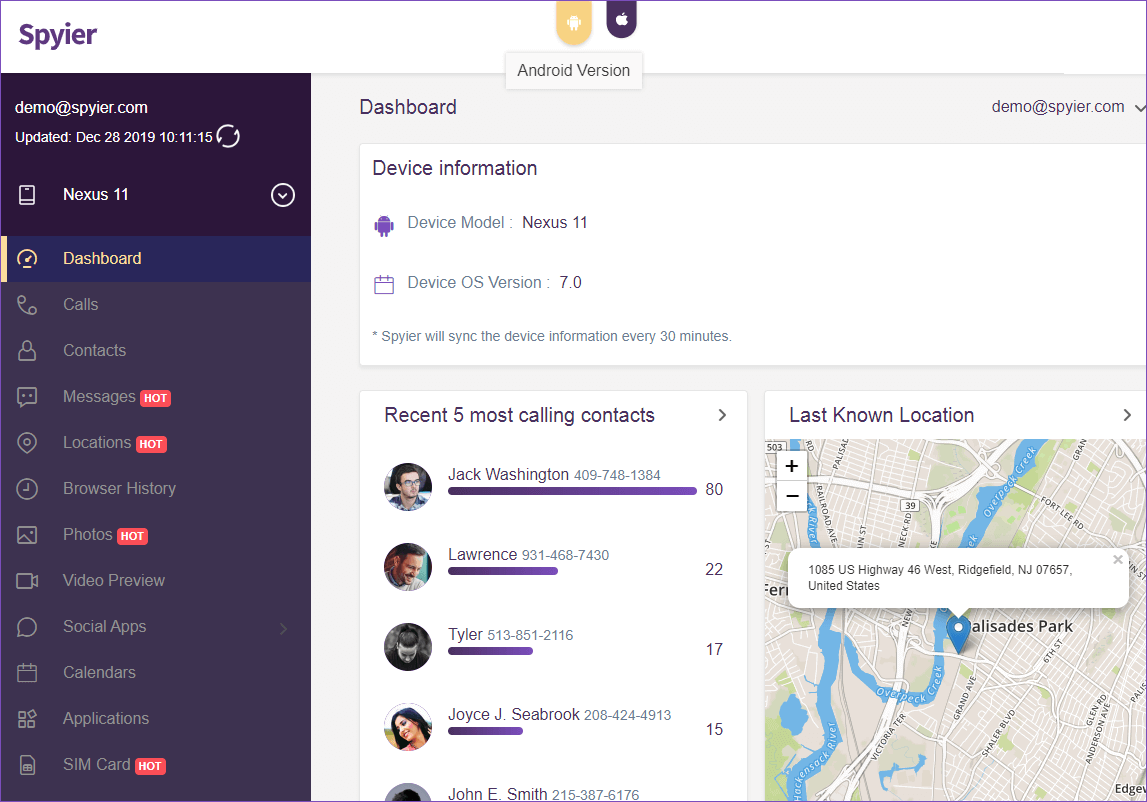 You'll need to download the app and perform setup on the target phone. For this, obtaining a 5-minute physical access to the target phone is a must. You can do this when your partner is temporarily away or sleeping!
Once installed, the app can be hidden from the app drawer with a single click. It runs in the background without consuming much battery or resources and doesn't send any push notifications. So detecting it is out of the question.
On iOS
No installation is needed anywhere! The app works in a 100% remote fashion by syncing with the target's (in this case your partner's) iCloud credentials. You just need to provide the credentials during setup, and once the sync is complete, real-time data will be fetched from their iCloud into the online dashboard.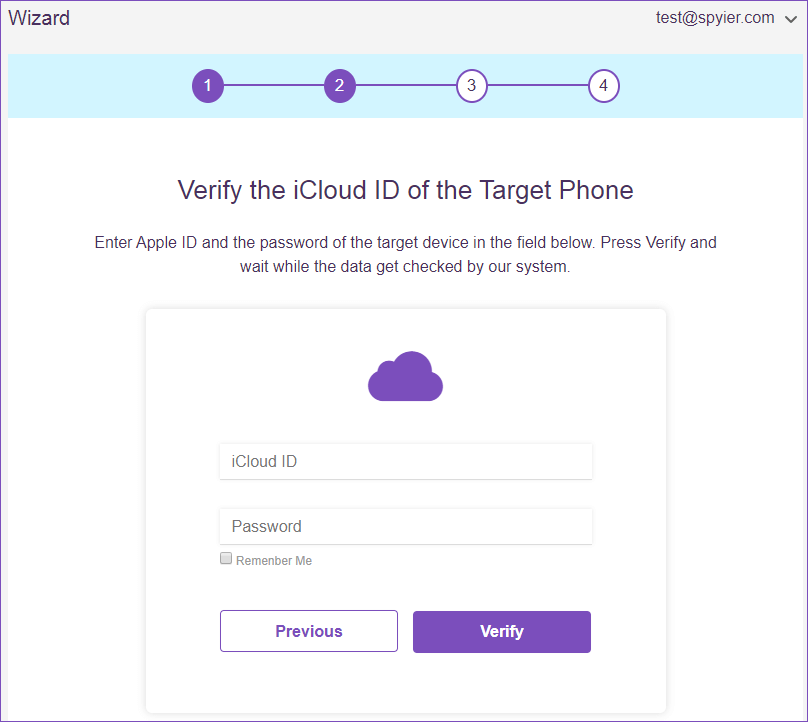 All it takes is a couple of simple steps to complete set up. And since there's an interactive Setup Wizard to guide you throughout, it's extremely easy to do it. In fact, the entire working of Spyier is so easy that anyone can pick it up within minutes; even people who've never been technically trained before.
2.2: Key benefits of using Spyier
A key benefit of using Spyier is that you don't need to root or jailbreak the target device to set it up. Unlike many similar apps out there, Spyier doesn't tamper with the device's security settings to facilitate working. Thus, it doesn't make the target device prone to viruses or malware.
Moreover, none of the monitored data is ever stored on Spyier's servers, and that ensures there can't be data leak. So, in effect, this is the most full-proof and safest phone monitoring solution ever designed!
Coming to its pricing, Spyier offers customized subscription plans to choose from. You can choose how many devices you wish to monitor with it, and accordingly, you can select the bundle you wish to use. A single purchase grants you access to 35+ features, without any strings attached!
Part 3: Setting Up Spyier
Please follow these steps to start working with Spyier:
Purchase a subscription plan and register. For this you'll have to head over to the pricing page as per the OS of your partner's phone.
When you click on the 'Buy Now' button, a pop-up window will prompt you to enter your email Id. This Id will become your username, and once your payment goes through successfully, an auto-generated password will be provided to you as well.
The payment completion page will also show you a 'Start Monitoring' button which you'll need to click to begin the actual app setup as per OS. The Setup Wizard will guide you beyond this point.
After configuration finishes, you'll see the 'Finish Installation' screen where you need to click on 'Start Monitoring' to initiate real-time data updates.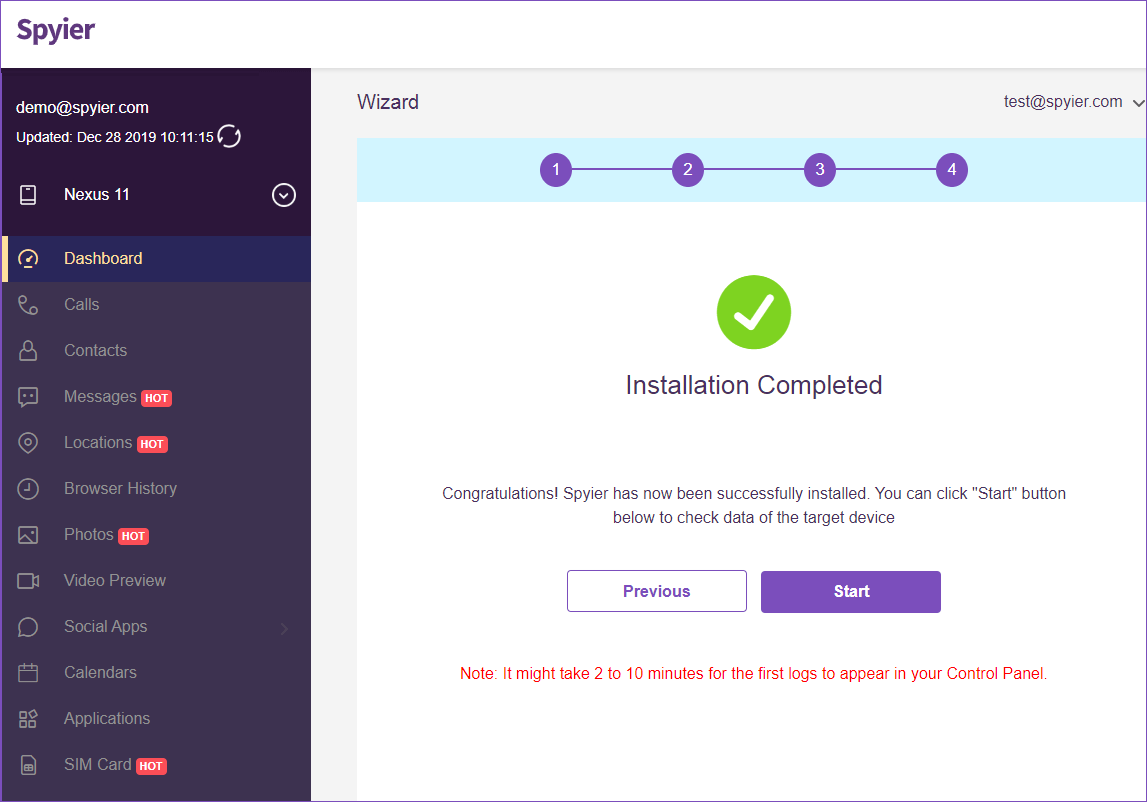 To sum it up
Spying on your partner after suspecting that he's cheating on you is not easy. But collecting evidence will help in confronting him. Spyier provides you all the features and benefits that are needed to conduct a successful spying operation on your husband, without revealing your identity.