Android Apps
Top 10 Apps To Send And Receive Fax With iPhone
Having an online fax service can do wonders for you. All you need is an account with a fax number, and you can start sending and receiving faxes online. If you don't have a fax machine, then you can create a new Fax number from these platforms.
This article covers the top 10 apps to send and receive fax with iPhone, Android, and Windows devices. The best thing is that you can carry out all your business communications without compromising the security of your documents. They are safe to use and offers an excellent way to share fax without a fax machine.
CocoFax
CocoFax is the most popular online fax service that allows its users to send and receive faxes remotely. You can either use your fax number or get a new fax number to manage your documents. You can access this platform with an application or directly from your web browser. It is one of the few applications that allows you to send unlimited faxes in a month.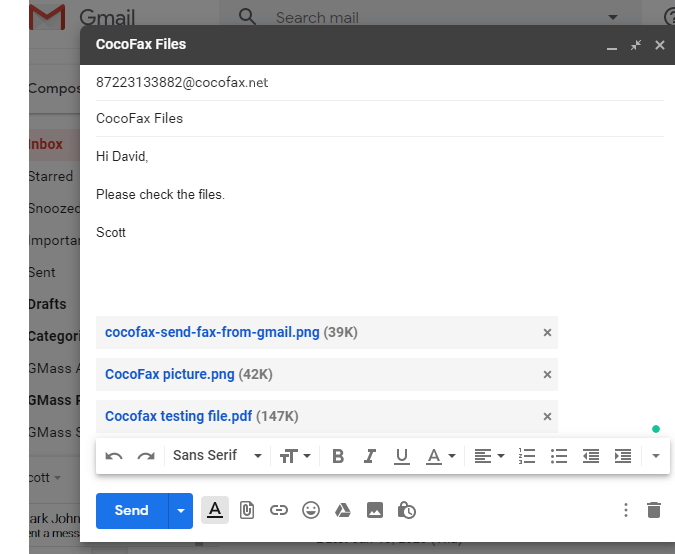 It is a reliable platform as you can connect your google drive with your online account and share documents seamlessly. Additionally, you can download its Microsoft word extension and directly send your word documents without even logging in to your account. You can also use it to fax through your mac devices.
RingCentral
Here is another great application that works on the same concept. Ringcentral allows you to manage all your fax documents virtually. You do not need to be around a fax machine to send and receive a fax. It is famous for its all-in-one solutions for small and large businesses.
It allows you to enter your fax number and use it to fax remotely. However, you can also subscribe to a new fax number by getting its membership.
You can use this application to send documents to your online contacts as well.
Fax.com
As the name suggests, Fax.com offers a new way to send a fax online. You can start by clicking on Internet Faxing, and it will ask you to upload your documents. After that, you can choose the recipient and send the fax easily. The application is compatible with all smartphones and does not require any application to work.
Log in to your online account and manage your faxes instantly. You can send as many as 300 pages with its basic plan.
Mfax
Mfax is a reliable platform to send fax documents easily. You can find most of your contacts on this platform. It offers an easy to use interface that assists the users in uploading, sending, and receiving the documents.
With your account, you get a new fax number, cloud storage, and several advanced features. They have focused on their solutions as this platform is all about the online fax service.
Biscom123
It is a paid fax service that provides email-to-fax services to its users. Two paid plans offer from 30 to 300 pages per month. Additionally, you get a mobile application where you can manage or share your fax documents with your contacts.
Uploading a document is much easier on this platform. The only limitation of this platform is that you can not use your google documents here. You will have to manually download them on your device and send them as a fax.
Nextiva
Nextiva is one of the most popular fax services in the United States. Individuals and small businesses use it to send and receive fax without owning a fax machine. You can install this application, and it will receive all your documents even if you are not online.
It also has online phone calling features that make your work much reliable. The combination of this FoIP and VoIP technology made it one of the best applications to receive faxes online.
PamFax
PamFax offers online fax services to over 236 countries. Hence, it covers more users and allows you to share your business with potential clients as well. The only limitation of this platform is that you can only send three faxes without getting a membership.
Hence, you get only three chances to make sure this platform works for you or not. Other than this, it is a complete fax solution and allows you to manage all your documents in an organized way.
WestFax
Here is another useful platform that can help you send faxes from your iPhone remotely. The main feature of this platform is that you can fax-to-email and email-to-fax conveniently. Additionally, it has an option to broadcast your fax documents to reach multiple recipients instantly.
The platform is completely secured and encrypts all the documents before sending them. Additionally, they are HIPAA compliant to provide the best services to their users.
Faxcore
FaxCore offers a cloud service to send and receive fax documents remotely. They have some cost-efficient plans that help users to get an affordable solution for their fax requirements. You do not need to own a fax machine as it can give you a new fax number.
You can store your confidential documents on cloud storage. As far as security is concerned, their website meets all the security requirements and offers a safe and reliable solution to their users.
Microsoft Word Fax
It may come out as a surprise to the readers, but Microsoft Word has a feature to send faxes remotely. All you need to do is install the windows fax driver, and you will be able to share with them your Microsoft account contacts. Additionally, you can enter a fax number to send it virtually.
Although it has all the features that you need, it may not come out as reliable as other products on this list. However, you can trust it to send free faxes whenever you want.
Final Words
Sending a fax document is much comfortable with the above platforms. They offer reliable services for small and large businesses. The best thing is that some of the applications provide free services. You can check CocoFax to get a 30-day free trial with the most advanced features.
It will help you manage documents from your google drive as well.